Our Vision
With its inspired blend of nature, design and lifestyle amenities, The Seasons on Little Lake represents a homeownership opportunity like no other in Ontario. This lakeside community in the thriving Southern Georgian Bay region is situated on approximately 247 acres of land featuring forests, ponds, trails, wildlife, big skies and open spaces. Boasting an expansive shoreline, 13 kilometres of interconnected recreational trails & walkways, and a 10,000-square-foot Members Club with indoor/outdoor pools, this warm and animated community will offer conveniences, services and an exciting array of life-enhancing recreational and social amenities – all year-round, and all within walking distance from your front door.
At a Glance
Master-Planned Community
Master-Planned Community
A new, approximately 247-acre master-planned community.
Little Lake
Little Lake
Located on pristine Little Lake, perfect for canoeing, kayaking, paddle-boarding, fishing and more.
Shoreline
Shoreline
Explore an expansive, approximately 2,500-feet of shoreline featuring a scenic, and close to 900-foot lakefront boardwalk.
Parks and Greenspace
Parks and Greenspace
Approximately 100 acres of protected parkland and greenspace.
Trail Network
Trail Network
13 kilometres of interconnected recreational trails & walkways, connected to a broader regional trail network.
Members Club & Grounds
Members Club & Grounds
A 10,000-square-foot Members Club with indoor/outdoor pools, a fitness facility, gymnasium, tennis court, recreational & meeting rooms, and party room for social gatherings.
Area
The heart of
Southern Georgian Bay.
Midland is situated on the southern shores of beautiful Georgian Bay, one of the largest freshwater lakes in North America and one of the most beautiful recreational areas in the country. In this vibrant lakeside community, you can enjoy the dynamic waterfront any way you like, from waterskiing and wakeboarding to sailing, fishing and more. Explore scenic trails for walking, biking and rollerblading or take a stroll downtown. This well-established local hub features an array of boutiques, restaurants and attractions. Midland's friendly hospitality is reflected in its many historic sites and welcoming people.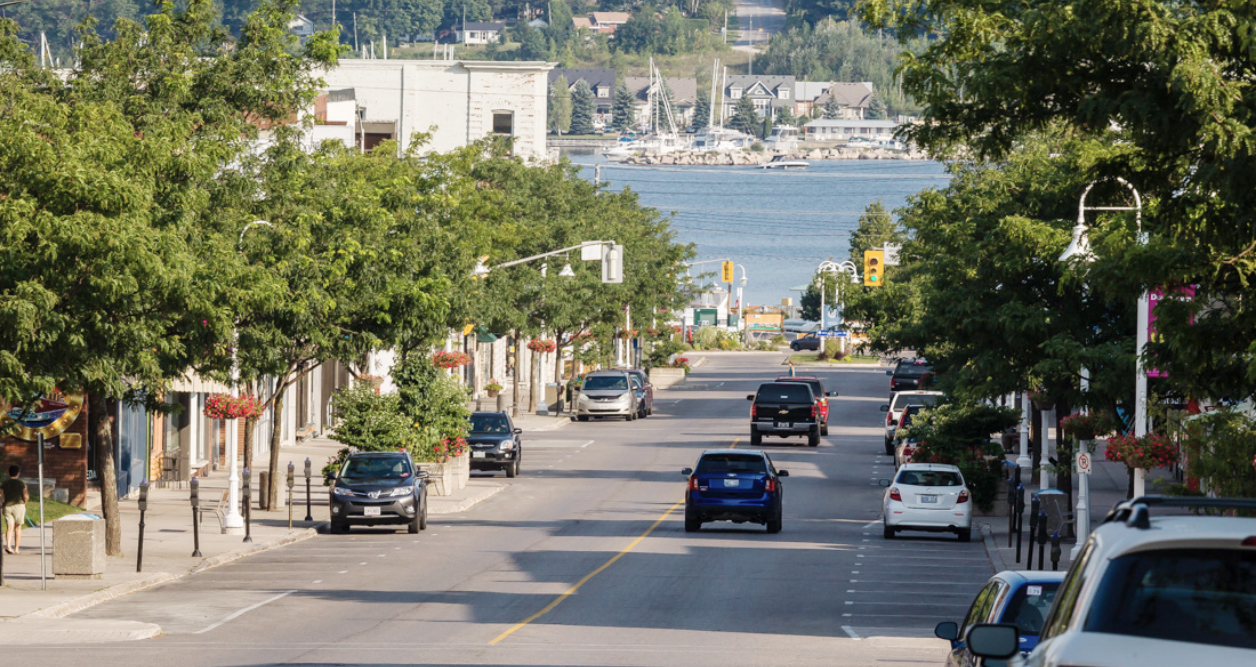 Live where inspiration comes naturally.
Live at one with nature, exploring parks, open spaces, ponds and forests, all connected by an extensive trail system. The Seasons will be a study in environmentally sensitive and responsible development. With approximately 100 acres of parks and pristine greenspace to be transferred to the Town of Midland, and permanently protected for the community's benefit. Every effort will be made to preserve the community's natural topography, local flora and fauna, all for you to enjoy.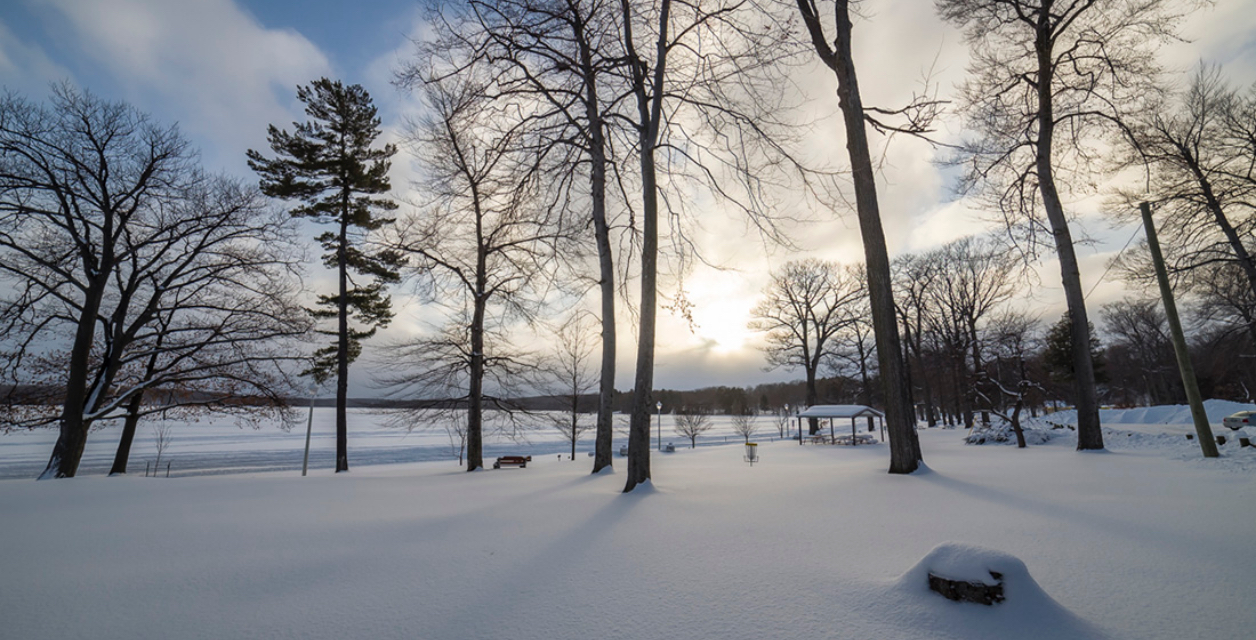 Area Map
The perfect place to call home.
It's not simply a place to live. It's a place to thrive. And at The Seasons on Little Lake, everything you need is within your grasp. Hit the links at nearby Midland Golf and Country Club, or get closer to nature at Wye Marsh Wildlife Centre. From hiking to paddle-boarding, countless outdoor activities at your doorstep will invigorate you, while the area's natural serenity will inspire you.
Midland Boat Cruises
Georgian Bay Rowing Club
Bay Port Yachting Centre Marina
Brooklea Golf and Country Club
Midland Golf and Country Club
N. Simcoe Sports & Recreation Center
Midland Curling Club Inc
Bayshore Lanes
Huronia Museum
Midland Public Library
Sainte-Marie Among The Hurons
Galaxy Cinemas
YMCA
Port McNicoll Skyline
Wasaga Beach
Saga Resort
Ride on Rentals
Midland Cultural Centre
S.S Keewatin
Port McNicoll Community Centre
Askennonia Seniors Centre
Canada Post
Midland Police Service
Midland Cultural Center
Town Hall
Post Office
TD Canada Trust
CIBC
Scotiabank
RBC Royal Bank
National Bank
Georgian Bay General Hospital
LINX Public Transit
Georgian Bay District High School
Huron Park Public School
Georgian College Midland Campus
St Theresa Catholic High School
Mundy's Bay Public School
Foodland
Food Basics
Valu-Mart
Walmart
Bulk Barn
Beer Store
Global Pet Foods
Huronia Mall
LCBO
Home Hardware Building Centre
Canadian Tire
Johnstone's Music Land
Sport Chek
Brunel Jewellers
The Boathouse Eatery
Double Happiness Chinese Restaurant
Lake Gallery Restaurant
The Library Restaurant
Uncle Roy's Restaurant
Lilly's Italian Eatery
Subway Sandwiches
Cakes Plus
Tim Horton's
McDonald's
Boston Pizza
Kelsey's
Dino's Deli
St. Margaret's Roman Catholic Church
Martyr's Shrine
Holy Cross Lutheran Church
Alliance Church
Calvary Baptist Church
Sacred Heart Catholic Church
Bayview Park
Wye Marsh National Wildlife Area
Mac McAllen Park
David Onley Park
Little Lake Park
Talbot Park
Galloway Park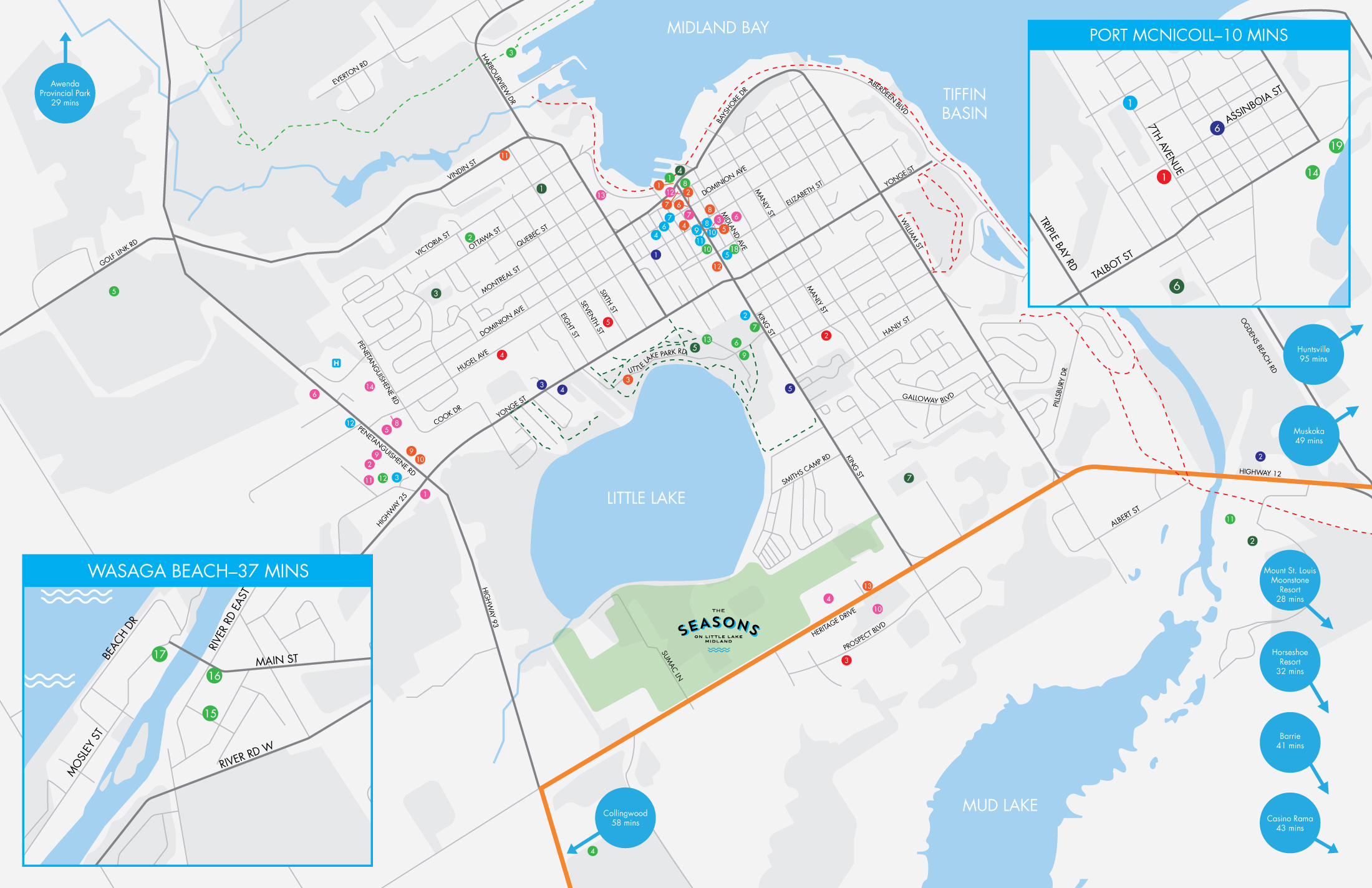 Register
Register to be added to our priority registration.
Privacy Policy
Collection Of Personally-identifiable Information
Hanson Developments is committed to protecting the privacy of the personally-identifiable information that we collect from you.
The scope of our commitment is detailed in this privacy policy.
By submitting information to us, you agree to our use of such information as described herein.
Use of Personally-identifiable Information
Hanson Developments uses your personally-identifiable information to fulfill your requests for information. Hanson Developments uses personally-identifiable information collected from cookies and IP addresses as described below. Websites are not intentionally designed for or directed at persons 18 years of age or younger, and Hanson Developments will not intentionally collect or maintain information about anyone under the age of 18.
Use of Cookies
Websites uses cookies to identify you and your interests and to track your usage of this website. Cookies are small text files stored on your computer that assist us in determining which browser you are using and where you have been on a particular website in order to use some of the features of the website. Cookies also let us know whether you have registered with Hanson Developments and also enable us to relate your current usage of a website to prior usage of the website.
No Disclosure Of Personally-identifiable Information to Third Parties
Hanson Developments shall not intentionally disclose (and will take commercially reasonable steps to prevent the accidental disclosure of) your personally-identifiable information to third parties (other than independent real estate brokers authorized by Hanson Developments with respect to a project(s) you have requested information on) without your permission, subject to the following exceptions:
Hanson Developments may disclose your personally-identifiable information to third parties as required or permitted by applicable laws, rules or regulations;

Hanson Developments may disclose your contact information in response to inquiries by bona-fide rights owners in connection with allegations of infringements of copyright or other proprietary rights arising from information you have submitted on this website or otherwise provided to Hanson Developments; and

if Hanson Developments (and/or one or more of its affiliates) merges with or sells all or substantially all of its assets to a third party, information collected about you on Websites may be disclosed to such third party.
Security
Hanson Developments has implemented generally accepted standards of technology and operation security in order to protect personally-identifiable information from loss, misuse, alteration or destruction. Only authorized Hanson Developments personnel are provided access to personally-identifiable information, and such employees are required to treat this information as confidential. Notwithstanding these precautions, we cannot guarantee that unauthorized persons will not obtain access to your personally-identifiable information.
Consent
By using a Website or filling out a registration form at a sales office, you consent to the collection, use and storage of your information by Hanson Developments in the manner described in this privacy policy. Hanson Developments reserves the right to make changes to this privacy policy from time to time. When using this website, you should review the current Terms of Use and privacy policy to determine if they have been amended since your last visit.
Terms & Conditions
Last updated: June 15, 2020
Please read these terms and conditions carefully before using Our Service.
Interpretation and Definitions
Interpretation
The words of which the initial letter is capitalized have meanings defined under the following conditions.
The following definitions shall have the same meaning regardless of whether they appear in singular or in plural.
Definitions
For the purposes of these Terms and Conditions:
Affiliate means an entity that controls, is controlled by or is under common control with a party, where "control" means ownership of 50% or more of the shares, equity interest or other securities entitled to vote for election of directors or other managing authority.
Company (referred to as either "the Company", "We", "Us" or "Our" in this Agreement) refers to Hanson Developments,

5650 Yonge St, North York, ON M2M 4G3

.

Country refers to: Ontario, Canada
Device means any device that can access the Service such as a computer, a cellphone or a digital tablet.
Service refers to the Website.
Terms and Conditions (also referred as "Terms") mean these Terms and Conditions that form the entire agreement between You and the Company regarding the use of the Service.
Third-party Social Media Service means any services or content (including data, information, products or services) provided by a third-party that may be displayed, included or made available by the Service.
Website refers to The Seasons on Little Lake, accessible from 

https://seasonslittlelake.com/

You means the individual accessing or using the Service, or the company, or other legal entity on behalf of which such individual is accessing or using the Service, as applicable.
Acknowledgement
These are the Terms and Conditions governing the use of this Service and the agreement that operates between You and the Company. These Terms and Conditions set out the rights and obligations of all users regarding the use of the Service.
Your access to and use of the Service is conditioned on Your acceptance of and compliance with these Terms and Conditions. These Terms and Conditions apply to all visitors, users and others who access or use the Service.
By accessing or using the Service You agree to be bound by these Terms and Conditions. If You disagree with any part of these Terms and Conditions then You may not access the Service.
You represent that you are over the age of 18. The Company does not permit those under 18 to use the Service.
Your access to and use of the Service is also conditioned on Your acceptance of and compliance with the Privacy Policy of the Company. Our Privacy Policy describes Our policies and procedures on the collection, use and disclosure of Your personal information when You use the Application or the Website and tells You about Your privacy rights and how the law protects You. Please read Our Privacy Policy carefully before using Our Service.
Links to Other Websites
Our Service may contain links to third-party web sites or services that are not owned or controlled by the Company.
The Company has no control over, and assumes no responsibility for, the content, privacy policies, or practices of any third party web sites or services. You further acknowledge and agree that the Company shall not be responsible or liable, directly or indirectly, for any damage or loss caused or alleged to be caused by or in connection with the use of or reliance on any such content, goods or services available on or through any such web sites or services.
We strongly advise You to read the terms and conditions and privacy policies of any third-party web sites or services that You visit.
Termination
We may terminate or suspend Your access immediately, without prior notice or liability, for any reason whatsoever, including without limitation if You breach these Terms and Conditions.
Upon termination, Your right to use the Service will cease immediately.
Limitation of Liability
Notwithstanding any damages that You might incur, the entire liability of the Company and any of its suppliers under any provision of this Terms and Your exclusive remedy for all of the foregoing shall be limited to the amount actually paid by You through the Service or 100 USD if You haven't purchased anything through the Service.
To the maximum extent permitted by applicable law, in no event shall the Company or its suppliers be liable for any special, incidental, indirect, or consequential damages whatsoever (including, but not limited to, damages for loss of profits, loss of data or other information, for business interruption, for personal injury, loss of privacy arising out of or in any way related to the use of or inability to use the Service, third-party software and/or third-party hardware used with the Service, or otherwise in connection with any provision of this Terms), even if the Company or any supplier has been advised of the possibility of such damages and even if the remedy fails of its essential purpose.
Some states do not allow the exclusion of implied warranties or limitation of liability for incidental or consequential damages, which means that some of the above limitations may not apply. In these states, each party's liability will be limited to the greatest extent permitted by law.
"AS IS" and "AS AVAILABLE" Disclaimer
The Service is provided to You "AS IS" and "AS AVAILABLE" and with all faults and defects without warranty of any kind. To the maximum extent permitted under applicable law, the Company, on its own behalf and on behalf of its Affiliates and its and their respective licensors and service providers, expressly disclaims all warranties, whether express, implied, statutory or otherwise, with respect to the Service, including all implied warranties of merchantability, fitness for a particular purpose, title and non-infringement, and warranties that may arise out of course of dealing, course of performance, usage or trade practice. Without limitation to the foregoing, the Company provides no warranty or undertaking, and makes no representation of any kind that the Service will meet Your requirements, achieve any intended results, be compatible or work with any other software, applications, systems or services, operate without interruption, meet any performance or reliability standards or be error free or that any errors or defects can or will be corrected.
Without limiting the foregoing, neither the Company nor any of the company's provider makes any representation or warranty of any kind, express or implied: (i) as to the operation or availability of the Service, or the information, content, and materials or products included thereon; (ii) that the Service will be uninterrupted or error-free; (iii) as to the accuracy, reliability, or currency of any information or content provided through the Service; or (iv) that the Service, its servers, the content, or e-mails sent from or on behalf of the Company are free of viruses, scripts, trojan horses, worms, malware, timebombs or other harmful components.
Some jurisdictions do not allow the exclusion of certain types of warranties or limitations on applicable statutory rights of a consumer, so some or all of the above exclusions and limitations may not apply to You. But in such a case the exclusions and limitations set forth in this section shall be applied to the greatest extent enforceable under applicable law.
Governing Law
The laws of the Country, excluding its conflicts of law rules, shall govern this Terms and Your use of the Service. Your use of the Application may also be subject to other local, state, national, or international laws.
Disputes Resolution
If You have any concern or dispute about the Service, You agree to first try to resolve the dispute informally by contacting the Company.
For European Union (EU) Users
If You are a European Union consumer, you will benefit from any mandatory provisions of the law of the country in which you are resident in.
United States Legal Compliance
You represent and warrant that (i) You are not located in a country that is subject to the United States government embargo, or that has been designated by the United States government as a "terrorist supporting" country, and (ii) You are not listed on any United States government list of prohibited or restricted parties.
Severability and Waiver
Severability
If any provision of these Terms is held to be unenforceable or invalid, such provision will be changed and interpreted to accomplish the objectives of such provision to the greatest extent possible under applicable law and the remaining provisions will continue in full force and effect.
Waiver
Except as provided herein, the failure to exercise a right or to require performance of an obligation under this Terms shall not effect a party's ability to exercise such right or require such performance at any time thereafter nor shall be the waiver of a breach constitute a waiver of any subsequent breach.
Translation Interpretation
These Terms and Conditions may have been translated if We have made them available to You on our Service.
You agree that the original English text shall prevail in the case of a dispute.
Changes to These Terms and Conditions
We reserve the right, at Our sole discretion, to modify or replace these Terms at any time. If a revision is material We will make reasonable efforts to provide at least 30 days' notice prior to any new terms taking effect. What constitutes a material change will be determined at Our sole discretion.
By continuing to access or use Our Service after those revisions become effective, You agree to be bound by the revised terms. If You do not agree to the new terms, in whole or in part, please stop using the website and the Service.
Contact Us
If you have any questions about these Terms and Conditions, You can contact us:
By email: info@seasonslittlelake.com